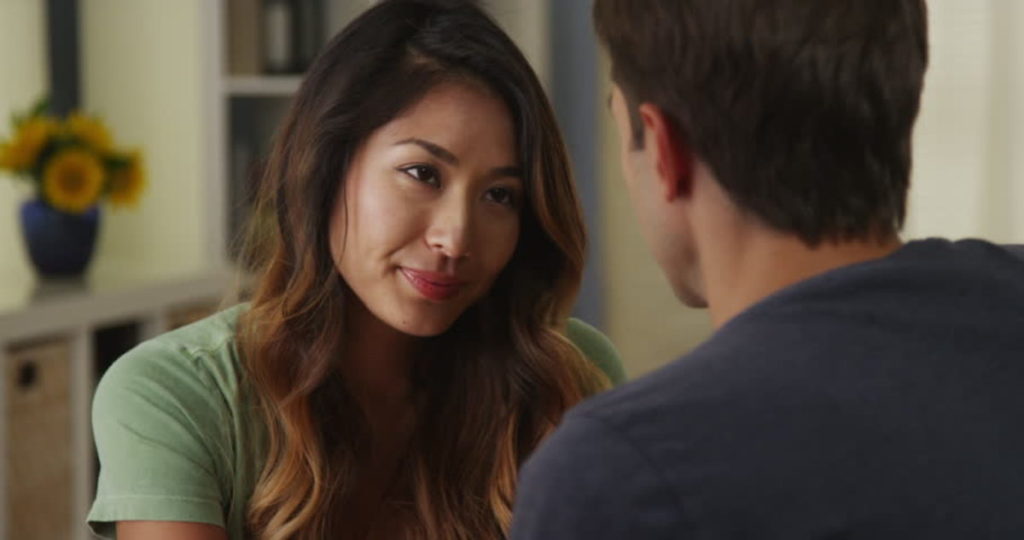 Josh prepares to introduce himself to the girl who had caught his eye at the Chinese restaurant. He deploys his best Chinese to get to know her better. Josh feels almost infatuated already. But how does 陈筱如 (Xiao Ru Chen) feel about Josh?
Dialogue:
Josh:Hi,我叫Josh。我可以坐这里吗?
筱如:可以啊,你一个人吗?
Josh:不,和我的朋友博海。 (Shouting at Bohai)过来吧!博海。
筱如:你是哪里人啊?中文说得很好。
Josh: 我是美国人,已经在这儿工作了。菜好吃吗?
筱如:都很好吃,我经常来。
Josh:Hey,博海,她很像你上次发给我照片里的姑娘。
博海:主要是你觉得中国女人都很漂亮。
Josh: 姑娘, 我还不知道你叫什么呢。可以给我个电话吗?
筱如:我叫陈筱如。电话就不了。
Josh:好吧,这是我的。下次我请你喝酒。
博海:我提醒过你。你看,被拒绝了吧。
Translation:
Josh: Excuse me. Hi, I'm Josh. Can I sit here?
Xiaoru: Of course. Are you by yourself?
Josh: No, that's my friend, Bohai. [To Bohai:] Come over here!
Xiaoru: Where are you from? You speak Chinese very well.
Josh: I'm American. But I'm working here. How's your food?
Xiaoru: It was all made very tastily. I come here often.
Josh: [To Bohai:] She looks like the girl you sent me a picture of.
Bohai: Mainly, you think Chinese women are all beautiful.
Josh: I still don't know what to call you. Can you give me your phone number?
Xiaoru: I'm called Chen Xiaoru. Never mind my phone number.
Josh: No way… Well, this is mine, call it anytime and you'll find me. Next time I'll treat you to a drink.
Bohai: Haha… I told you. See, you got rejected.