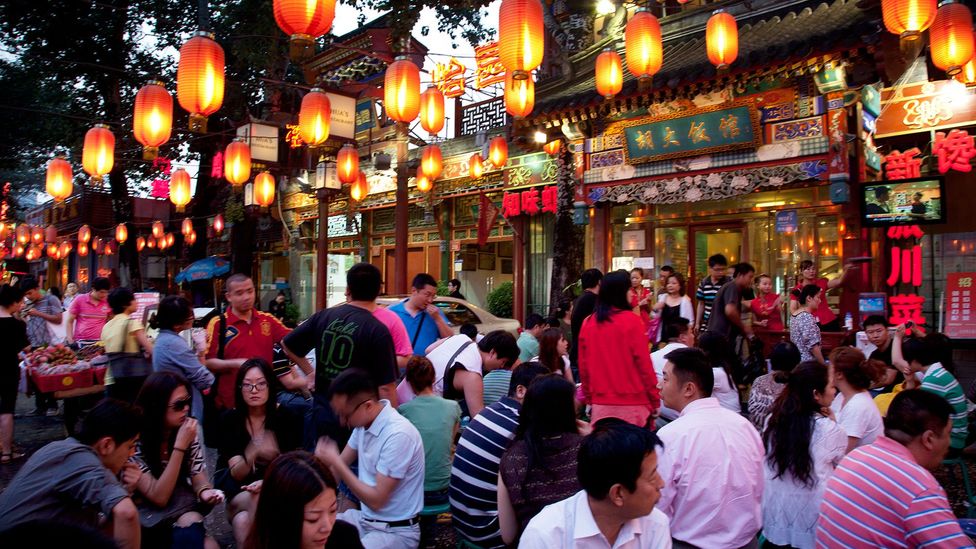 Our main character Josh arrived in China two weeks ago after securing a job in a Beijing school teaching English. On his way to China, at the JFK airport, he met Bohai (渤海) Zhang, and the two quickly became friends. Since they were both seeking roommates, they decided to room together upon their arrival.
Bohai has just graduated from NYU in civil engineering and is returning to work in a Chinese company. Our story starts on Sunday, with 渤海 showing Josh around the city as he promised. Rather than going to the Great Wall or other big tourist spots, they are trying some real local foods, such as Zha Jiang Noodles and 宫保鸡丁(Kung Pao Chicken). Josh had had it regularly when he was in New York but it tastes even better here. Apart from these, Bohai also showed him another local specialty…
Dialogue:
Josh: 哇,这里人好多,这是哪里呀?
张博海: 这是北京小吃最多的地方。你想吃什么就有什么。走,我们看看去!
Josh: 这一盘是什么呢? 。 。 。烤鸭?怎么感觉跟我以前吃的不一样?
张博海: 这是北京烤鸭,在美国也有啊。
Josh (tasting it): 可是更好吃!
张博海: 当然了!在美国怎么吃都是那样。你看,我们还有这个!给你!
Josh: 哇啊啊啊啊啊! !蝎子啊! ! ! ! !不要啊! ! ! ! !
Translation
Josh: Wow, so many people here, where is this?
Bohai: This is Beijing's most famous and plentiful snack food place. You want to eat something, they've got it. Let's go look over there!
Josh: What is this dish? Beijing Duck? It seems different from what I've had before.
Bohai: That's Beijing Duck. You have it in America too.
Josh: But this is more tasty!
Bohai: Of course! In America, what you eat is all like that. Look, here's another! Here you go!
Josh: Ahhh, a scorpion! No way!